The physical body has warmth and energy. This energy is called life force. All living beings share in this energy. The Japanese word for this energy is Ki. Reiki (pronounced Ray-key) translates as Universal Life Energy. Reiki is an ancient healing art and a hands-on touch system of restoring balance to the body.

Reiki is a vehicle for establishing a connection with Universal energy, God, Universal Light or a powerful, positive unconditionally loving life force that is always present.

A person can be the recipient of Reiki energy during a healing session, or they can train to administer Reiki energy to others.


Reiki has been medically proven to reduce stress and its harmful effects. It lowers blood pressure, respiration and heart rates and slows bleeding. It promotes well-being by balancing the body and helps produce healing results.

Yes. Reiki affects all living things. Humans, animals, plants and all that has life is connected to the flow of universal life force and will receive benefit from Reiki.

A Reiki treatment, also known as a healing session, imparts Reiki energy to the receiver; and

Reiki classes

train the student to administer Reiki treatments to others. Therefore, you can either receive a Reiki treatment, or attend classes where you will receive the necessary Reiki attunements and training so that you can administer Reiki to yourself and others. I offer both.

In Reiki, a healer utilizes this energy for the purpose of healing. Recipients of Reiki healing report reduction in pain levels, increased energy and an improvement in their sense of well-being. Some feel heat or vibrations from the healer's hands, even though the hands are not moving.

A typical healing session takes place with the recipient fully clothed. This is not a manipulative therapy that involves massage or movement techniques. Reiki is a powerful energy which is gently received. Deep and profoundly simple, it dissolves blockages and increases flow. The body's own innate healing abilities are re-awakened and stimulated, promoting an increase in the immune system's activity and response time.

Essential Reiki has three degrees, or levels. The healer is created by an initiation, or attunement which enables them to open, receive and transmit the Reiki energy. Each attunement, given to the student during the Reki training, increases the healer's ability to channel this energy force.

Reiki I or First degree

- heals on the physical body level

Reiki II or Second degree

- adds the emotional and mental body levels

Reiki III or Third degree

- brings in Spiritual body healing

Taking all

three degrees

in one weekend is a highly intensive and transformative experience. Reiki, on any level, is a magical gift you give yourself.
Continuing Education Recertification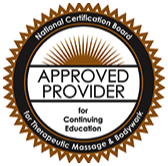 I am an NCBTMB Approved Provider of Continuing Education Recertification for Massage Practitioners. Please contact me for more information.
For many years information about Reiki was a closely guarded secret, passed on through verbal lineage with very little written recording. When taking a class students were not allowed to bring written information home. Because memorization took time to occur, students advanced slowly. If a student could find a book about Reiki, it was about the history of Reiki, not the practice. The hand positions were never shown, there were few diagrams and the symbols were never to be be revealed to the public.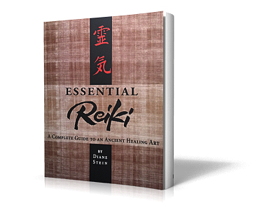 In 1995, Crossing Press published
Essential Reiki: A Complete Guide to an Ancient Healing Art
by Diane Stein and the world of alternative healing changed forever. For the first time in the history of this ancient healing tradition, the secrets were revealed. Hand positions, their purpose and how and why Reiki works were put into print, even the Reiki symbols were shown. The ability to heal was shown to be a God given birthright, as natural to our existence as taking a breath. The steps to reclaim this ability were clearly laid out, and an attunement process was shown to unlock our genetic healing powers. While no book can replace the directly-received Reiki attunements given in a Reiki Class, this book provides an informative background which serves as a wonderful adjunct to Reiki training.
Reiki Classes and Training
Reiki is the re-awakening of our connection to the Universal Ki or life energy. Everything that has life has ki - the activating energy of the Universe. Through the Reiki classes, the student receives Reiki attunement, which connects the receiver in an increased way to its limitless source.
more...
Sign up for our Newsletter
Sign up
to receive the Essential Reiki newsletter. Keep on top with latest news, upcoming events, and fascinating articles on Reiki, healing, and life.